 PREFABRICATED MODULAR VEHICULAR BRIDGES
ACCELERATED CONSTRUCTION – MEETS STATE AND LOCAL REQUIREMENTS MODULAR VEHICULAR BRIDGES
TrueNorth Steel vehicular bridges are built on design flexibility, cost efficiency, and shortened project time. 
By combining the design flexibility to meet specific application requirements, with the cost efficiencies of reduced installation time, we are able to provide low-cost durable, pre-fabricated, high-quality modular bridge designs that meet AASHTO, state and local bridge design requirements.
Your prefabricated bridge modules are shipped directly to the jobsite so they can be quickly and easily assembled and installed by contractors or county crews, resulting in minimal road closure times. 
Our bridges can accommodate asphalt, concrete, gravel or treated timber driving surfaces. We offer prefabricated steel back walls, pre-engineered SuperSill® abutments, guiderail systems and concrete abutment design services ensuring your bridge design is fully integrated with your project.
Click here to contact a Bridge Engineer to discuss project specifications.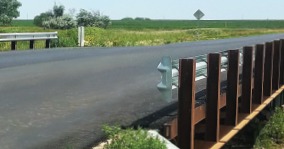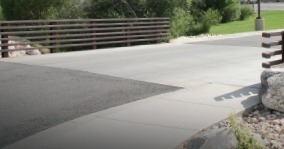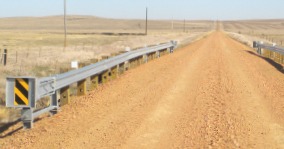 HEAVY-DUTY GALVANIZED CORRUGATED DECKING
Project Types
County Roads, Public Works, Government, & Municipality Projects

State and National Parks

Timber harvesting roads

Energy, Mining, Industrial

Driveway entrances

Ideal for remote sites
Options
Customize Your Bridge
Driving surface: concrete, asphalt, steel grating, wood or gravel
Bridge Finish: Weathering steel, Painted, Galvanized.
Sidewalks and utility support can be accommodated.
Steel back wall systems further accelerate construction.
Skewed ends to match roadway alignment.
Aesthetic features such as faux trusses and roofs.
Prefabricated SuperSill® abutment system.
Guiderail designed for crash loads TL-1 through TL-5
Bearing plates and pads included
EXPERIENCE. COMMITMENT. QUALITY.
Modular Bridges
TrueNorth Steel bridges feature simple modular construction but deliver big on aesthetics and quality details. We pre-manufacture components in our AISC-certified facilities, where we use only the highest quality materials and welding procedures. This process shortens lengthy production timelines while ensuring you get easy and fast, bolt-together installation at a low cost.
Engineering
TrueNorth Steel has the engineering expertise to provide stamped engineering design drawings for our pre-fabricated modular vehicular bridges, as well as for bridge abutments. 
Our engineers are certified P.E. licensed, and registered in all 50 states and they're familiar with state and local design code requirements. We are ready to support your project wherever you are located. 
If you want to discuss your bridge design, please contact us at Bridge@TrueNorthSteel.com or call us at 406-532-7103
Additional Engineering Services:
Bridge Load Rating– Increasingly, state departments of transportation "DOT" are requiring load ratings for new vehicular bridges and bridge replacements if they are connected to the national highway system "NHS". Depending upon the state DOT, the process of load rating the bridge design itself (prior to construction) can be very simple or it can require specialized software. In either case, TrueNorth Steel can help. 
If you have questions about the load rating requirement, contact us at Bridge@TrueNorthSteel.com or call us at 406-532-7103
Certifications
AISC Certified Advanced Bridge Fabricator (ABR) ensures the highest quality fabrication
AISC Certified Fracture Critical Endorsement (FCE) meets the most stringent bridge fabrication demands
AISC Certified Special Paint Endorsement – Enclosed (P1) ensures that painted bridges will exceed your expectations
All TrueNorth Steel Bridges are designed and fabricated to applicable AASHTO/ASTM Standards
AWS (American Welding Society) Certified Welding Fabricator
Typical Modular Vehicular Bridge
Accelerate Bridge Construction
Simplify installation with modular construction. Typical projects are finished within one to three days, thus reducing installed cost.
Download TrueNorth Steel vehicular installation guide by

clicking here

. 

Up to 50'-0," span individual bridge modules can be set with one or two excavators- no need to rent a crane.

When a crane is required, the crane service time will be minimal given the modular construction.

If soil conditions are conducive to a perched-style spread footing abutment, our pre-engineered/prefabricated 

SuperSill

®

can be set with an excavator and filled with concrete or shipped to the jobsite pre-filled.

Bridge guardrail systems are pre-installed on bridge modules.

Bolt-on back walls simplify construction so you can quickly build your road approaches and install surfacing on the heavy duty galvanized corrugated deck
Steel Bridge Solutions For
Vehicular Bridges Pedestrian Bridges RediDek® Bridges Steel Plate Girder Bridges