SEDIMENT & EROSION CONTROL
Available in Several Different Configurations Double Net Straw
A 100% Straw fiber matrix stitched between two photodegradable nets. Can be used on 3:1 to 2:1 slopes and has a functional longevity of 12 months. For environmentally sensitive areas these blankets are also available with jute biodegradable nets.
Double Net Straw & Coconut
Constructed of 70% straw and 30% coconut fiber stitched between two long term photodegradable plastic nets. They provide protection on steep slopes and medium flow channels for up to 24 months. The preferred product of most state DOT's is the straw/coconut blanket with the biodegradable netting, providing protection for up to 18 months.
Double Net Coconut Fiber
Is a blanket of 100% coconut fiber stitched between two long term photodegradable nets. This will bring the highest level of protection for severe slopes, steep embankments and high flow channels. Coconut blankets provide protection for up to 36 months. The biodegradable net option provides protection for up to 24 months.
Turf Reinforcement Mats
A permanent turf reinforcement mats allow vegetation to be used for scour prevention where flow conditions exceed the shear limits of natural vegetation. The permanent turf mat reinforces the root-and-stem systems of the vegetation and protects against the high shear stress water flow. We will advise availability of the right TRM for your situation.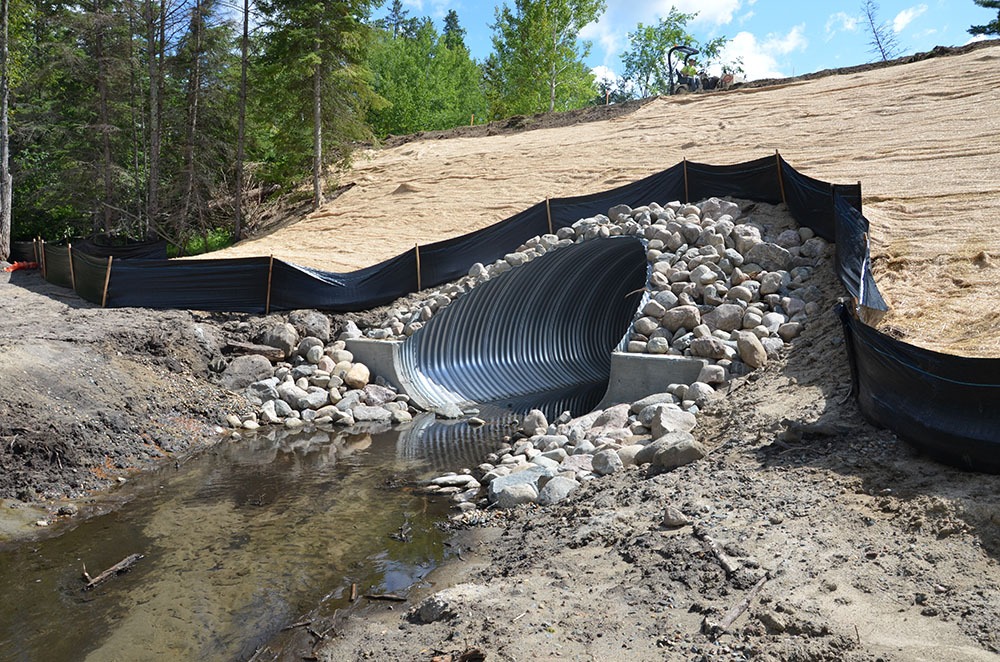 Flexamat®
(Tied Concrete Block Mat is a generic term for Flexamat.) Flexamat consists of concrete shapes, locked together with a high strength, polypropylene geogrid. There are openings around each concrete block that give Flexamat the flexibility and enable it to be packaged in rolls. The openings also allow vegetation to grow through the mat. Eventually, vegetation will completely cover Flexamat. It can be manufactured with various backings such as non-woven fabric to stop vegetation growth or a TRM (turf re-enforcement mat) depending on the soil conditions and other factors. There's a wide range of applications where Flexamat is utilized, but it is most commonly used for erosion control. Flexamat is used to control erosion in channels, outlet protection, on slopes, for shoreline protection and many other applications. Flexamat offers permanent, hard armor protection, with a natural vegetated appearance. Flexamat may be mowed over with commercial mowing equipment or left to grow wild. Besides grass, there are many other types of native plant species that can be planted to grow within the mat. For example, Willow Saplings were planted through Flexamat for a streambank re-vegetation project.
TrueNorth Steel strives to be your preferred supplier by providing the necessary construction products for your project from start to finish, as well as providing products to meet state and federal specifications. It all begins with controlling the sediment on your job site.
Products include:
Straw Wattles made from weed free straw fibers confined in a plastic mesh. Available in 9" and 12" diameter rolls.
Excelsior Wattles made from wood excelsior fibers that allows for water permeability at the same time filtering sediment.Available in 9" and 12" diameter rolls.
Silt Fence which is the most commonly used sediment control tool is available with or without stakes, and with or without wire backing.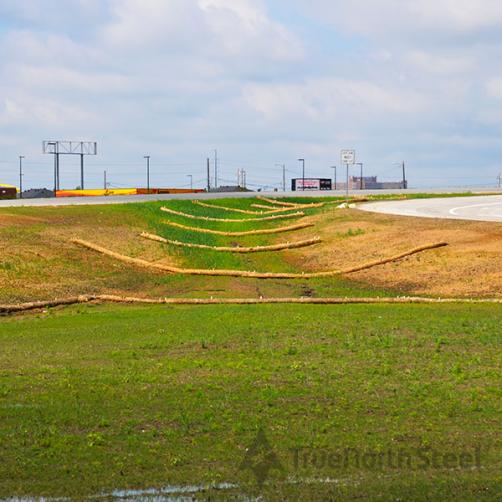 Compost Sock
Palletized Compost Filter Sock is a mesh tube filled with composted wood debris to help keep mud and other pollutants out of waterways. During rain events, water "ponds" behind Compost Filter Sock, then seeps through – the pollutants either settle out or are filtered out. With compost sock, total installation costs are far less than straw wattles or silt fence. Extensive testing shows Compost Filter Sock outperforms silt fence and straw wattle products. They meet USDA-NRCS, AASHTO, USACE, and EPA specifications as well as those of many State Agencies.
Your One Stop Distributor
Cattle Guards Flexamat Drainage Gates Geosynthetics Sediment Control Erosion Control Gabions