TrueNorth Steel has more than 75 years of experience going above and beyond for our customers in a number of industries, including agriculture, construction, mining, road and bridge construction, stormwater management and energy. Our manufacturing, engineering and project management experience allows us to consistently provide high-quality construction and storage solutions.
Unlike other companies, TrueNorth Steel is an all-in-one solution. From planning to delivering the final product to your site, we have you covered. In addition to manufacturing, we manage our own fleet of trucks, allowing us to bring materials to you and eliminate the hassle of arranging logistics yourself. It also allows us to control freight times, doing away with the uncertainty that comes with using an outside shipping company.
Our team works closely with engineers, architects and construction managers, tailoring the level of service and assistance to each client's unique needs. From concept to fabrication and assembly, we remain a true partner.
How can we make that promise? One simple concept has guided our business since 1945: Be the reliable, dependable provider of the steel products our customers demand. We combine our decades of experience with a detailed understanding of each project to find the best steel solution for customers in agriculture, construction, mining, road building, energy, and a variety of other industries.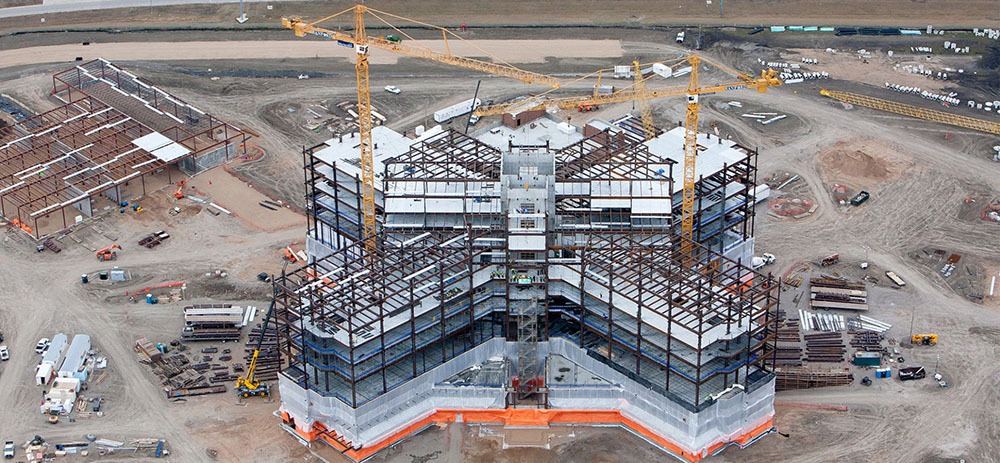 Since 2011,

the following businesses were aligned under the TrueNorth Steel name:
Johnston Fargo Culvert
Huron Culvert and Tank
Fargo Tank and Steel
Dakota Steel and Supply
Mandan Steel Fabricators
Precision Stair and Steel
Roscoe Steel and Culvert

Beck Steel
TrueNorth Steel's story began in 1945 when Ole Rommesmo Sr., a Norwegian immigrant, launched his first company: Fargo Tank. From the very beginning, the business reflected Ole Sr., his values, and his principles. Integrity, humility, focus, commitment, and knowledge. These words describe Ole Sr., and they represent the entire TrueNorth Steel team today.
In the decades that followed, the business grew through acquisitions, creating a diverse portfolio of steel products and capabilities while extending the company's reach across North America. Huron Culvert and Tank, Minnkota Windows, Mandan Steel, Johnston Fargo Culvert, FTC Transport, Dakota Steel, Precision Stair and Steel, Roscoe Steel and Culvert, and Beck Steel were added. The businesses were known by their names individually. Collectively they became businesses of The Rommesmo Companies.
Ole Rommesmo, Jr. now leads the business, and in 2011, Ole Jr. integrated The Rommesmo Companies' steel businesses into a single organization, forming TrueNorth Steel. TrueNorth Steel carries the company's more than seven decades of history into the future – continuing to deliver on the values of integrity, humility, focus, commitment, and knowledge on which Ole Sr. founded the business and continuing to serve its customers with reliable steel products they can count on.
Mission | Vision | Values
The mission of TrueNorth Steel is to be an industry leader in quality manufactured and fabricated steel products for profit. TrueNorth Steel will adhere to a culture of building leadership, continuous improvement and will always be accountable and respectful to its employees, customers, suppliers and owners by providing solutions and building trust.
The vision of TrueNorth Steel and FTC Transport is to understand our customers and provide the best products, services, and solutions to make them look good.
TrueNorth Steel Company Values:
Safety

– Surpassing every safety standard is the most important thing we do. Our employees deserve it. Our customers demand it.

Integrity

– We mean what we say and say what we mean.

Humility

– We don't define our success by what we do, but by what our customers do.

Focus

– All we do is steel. We know what we're good at, and we stick to it.

Knowledge

– We bring expertise to every project that can only come with decades of time-in-trade.

Confidence

– We know Steel. We're not arrogant – we instill confidence because we have knowledge and experience.

Commitment

– We earn our customers' loyalty and trust only when we follow through on every promise made.
Working together for positive change.
Community involvement is a long-standing TrueNorth Steel objective. For more than 75 years, our company and its coworkers have contributed our time and talents to create meaningful change in the communities we live and work.
The following are just a few highlights of the programs and organizations benefiting from TNS volunteer efforts.
Programs & Organizations we support:
United Way – Day of Caring
Feed My Starving Children
Monsanto Seat Belt Drive
Adopt a Highway
Toys for Tots
Backpack Drives
Big Sky Economic Development
Various sponsoring of local youth sporting events
TrueNorth Steel's positive impact on our community was recognized when we were awarded Business of the Year at the 2022 FMWF ChamberChoice Awards. The ChamberChoice awards honor businesses in the Fargo-Moorhead-West Fargo metro area that strengthen their community. The award finalists and winners were selected by a panel of independent judges from the regional business community who evaluated accomplishments in the areas of business growth, innovation, creativity, community involvement and unique achievements relating to a specific business or industry.