 PREFABRICATED PEDESTRIAN BRIDGES
Low Maintenance, Safe, One Day Installation Steel Truss Pedestrian Bridges
Whether it's an urban or rural setting, city park or busy highway overpass, we design every pedestrian bridge to enhance the landscape both aesthetically and environmentally. We can help you find that perfect balance of utility and eye pleasing appeal. 
Our skilled fabricators and welders handcraft each bridge to deliver a design that will stand the test of time. Our steel pedestrian bridges are pre-engineered and prefabricated making the entire process simple, fast and reliable. 
Fabricated from low maintenance weathering steel, galvanized or painted steel and long-lasting deck materials, TrueNorth Steel pedestrian bridges will provide years of trouble- free service.
Experience. Commitment. Quality.
Step 1: CONCEPTUALIZE
Our team has the experience to help you make your steel pedestrian bridge unique and your own. Whether that means custom truss designs, railings, roofs, decks or colors, TrueNorth Steel can make it happen.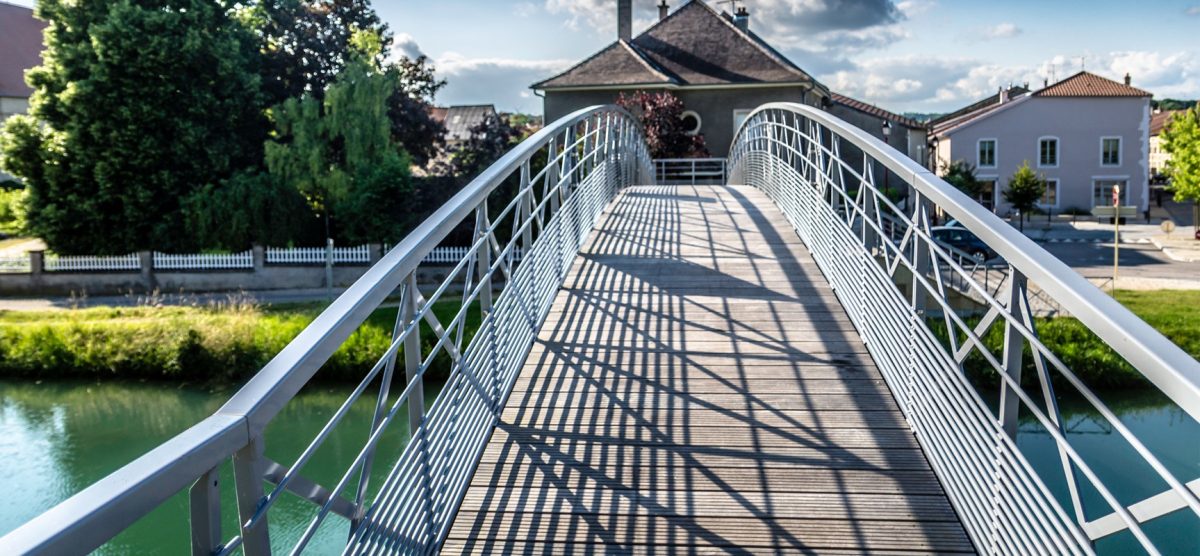 Step 2: Design
Our experienced bridge design engineers use state-of-the-art design software and are registered in all 50 states ensuring that our bridge designs meet all published applicable standards. Our engineer's first priorities are to provide safety and longevity in every bridge design, but closely behind comes their ability to provide efficient designs. TrueNorth Steel bridge engineers have extensive knowledge of state and local design requirements which translates into expedited design reviews and approvals. 
Step 3: FABRICATE
75 years of steel fabrication has taught us how to do it right. Weld quality, fit, finish and all of the details are as important to us as they are to you. Our facilities are all certified and audited by the American Iron and Steel Institute and our internal quality systems ensure that when our bridges go out the door, they reflect the pride we take in our work.  
Step 4: INSTALLATION
TrueNorth Steel pedestrian bridges are designed for simple and efficient installation. We understand that every project is unique, so we work closely with all parties by conducting preconstruction meetings ensuring a safe and easy bridge installation. Our bridges arrive on site in single sections capable of being lifted by crane from a truck and set directly in place on abutments. Bridge sections can also be spliced together prior to setting as a completed assembly on abutments. Pedestrian bridge Installation instructions may be downloaded by clicking here.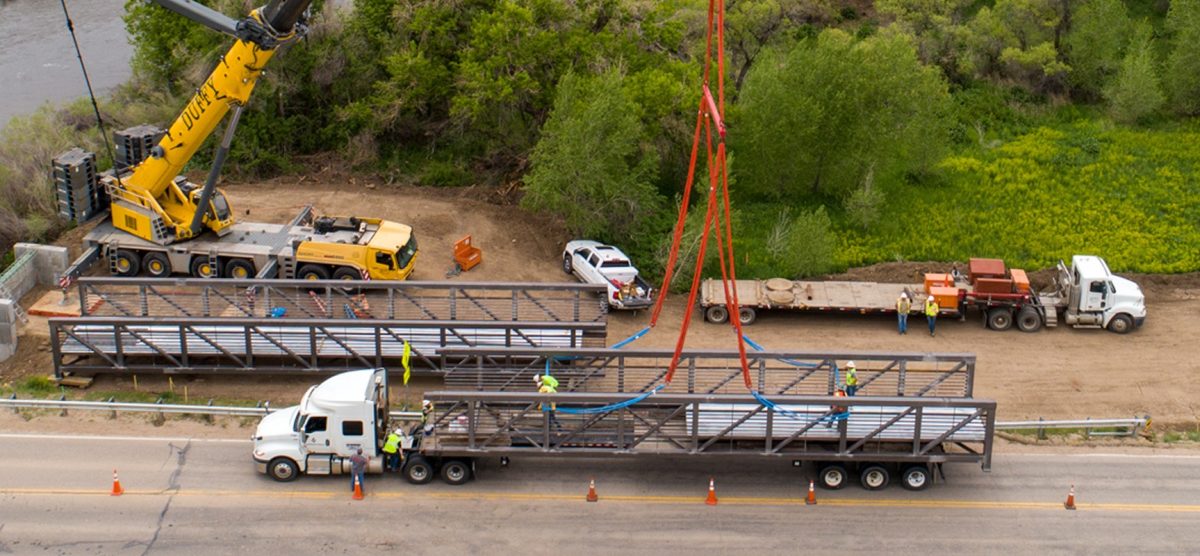 Project Types
Aerial spans over highways & railways

Biking, hiking, snowmobile & recreational trails

Rails-to-trails projects

Building to building connector bridges




Utility bridges
Options
Clear spans up to 250 feet.

Designs and design support by our experienced engineers and project managers. 

Weathering steel, painted and galvanized steel structures.

Wide range of truss styles to meet your architectural requirements. 

Architectural features such as railings, roofs, glazing, heated concrete deck and lighting.
Deck Materials
Concrete

Hardwoods such as Ipe

Softwoods including Douglas Fir and Yellow Pine

Steel Grating

Fiber Reinforced Polymer
Bridge Styles
Arch Truss

Beam Stringer

Bowstring

Brown Truss

Modified Bowstring

Pipeline Support

Pratt Truss

Warren Truss
Certifications
AISC Certified Advanced Bridge Fabricator (ABR) ensures the highest quality fabrication
AISC Certified Fracture Critical Endorsement (FCE) meets the most stringent bridge fabrication demands
AISC Certified Special Paint Endorsement – Enclosed (P1) ensures that painted bridges will exceed your expectations
All TrueNorth Steel Bridges are designed and fabricated to applicable AASHTO/ASTM Standards
AWS (American Welding Society) Certified Welding Fabricator


Steel Bridge Solutions For
Vehicular Bridges Pedestrian Bridges RediDek® Bridges Steel Plate Girder Bridges