 REDIDEK® BRIDGE DECK REPLACEMENT SYSTEM
Up to 75% Faster than on-site Field-fabricated Construction Bridge Deck Replacement System
TrueNorth Steel's patented, innovative process uses lightweight prefabricated galvanized corrugated steel bridge deck panels. RediDek® bridge deck panels arrive on site ready to install on existing steel, wood or concrete girders.
Contact us for specifications and span data.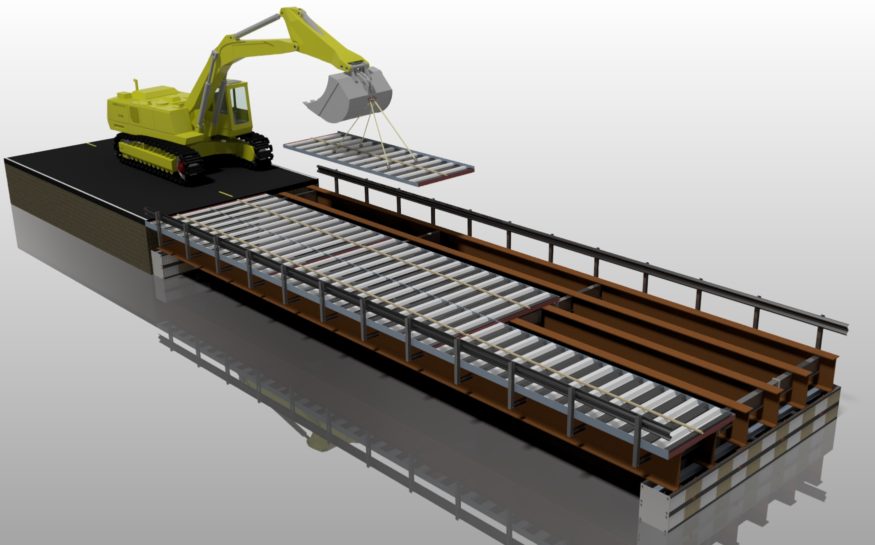 Features and Benefits
AISC-certified manufacturing facilities ensure the highest quality construction and fabrication.
Fracture Critical Endorsement to meet the most stringent bridge fabrication demands.
Sophisticated Paint Endorsement.
Designed and fabricated to applicable AASHTO/ASTM Standards
REDIDEK® Specifications
Net span is the clear span between girder flanges.
Allowable net span is based on 3-3/4" of gravel ballast cover above the top flange of 4-1/4" decking.
Steel decking shall be 4-1/4"deep x 12" lay length "Type A" galvanized corrugated steel conforming to ASTM
A653 grade 50.
Steel decking shall be galvanized G200 coating weight per ASTM A653.
Steel Bridge Solutions For
Vehicular Bridges Pedestrian Bridges RediDek® Bridges Steel Plate Girder Bridges