LUBBOCK, TX – TrueNorth Steel revealed the launch of a new steel tank production line at its Lubbock, TX manufacturing facility during an on-site press conference on March 2, 2023. With this addition, the Lubbock facility now has the capability to produce three product lines for the company, including: structural steel, vehicular and pedestrian bridges, and underground tanks.
Several Lubbock area media outlets provided coverage for the event: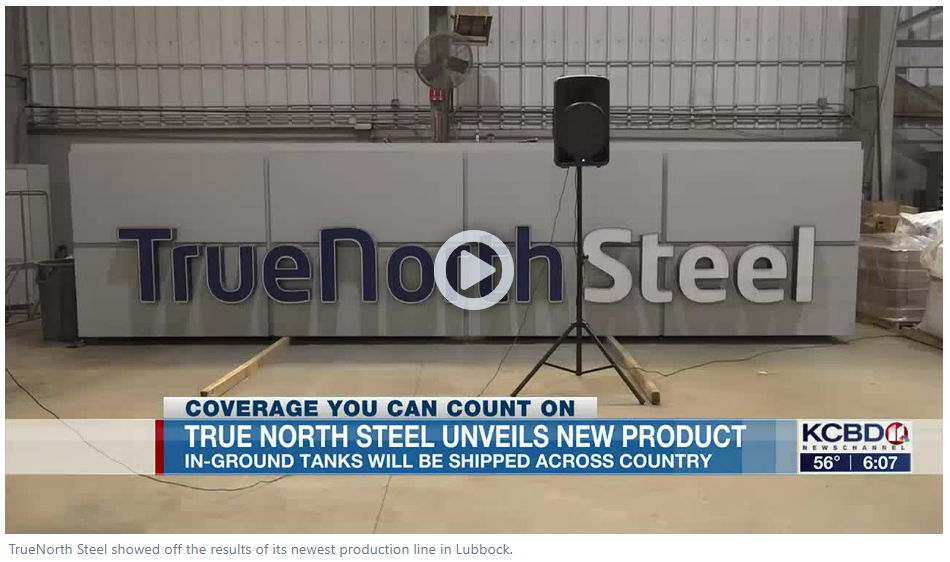 Zeb Baird, TrueNorth Steel's Lubbock Site Manager, welcomed the crowd of employees, local media and city representatives present at the press event and spoke about the implementation of the new tank line. Dan Kadrmas, TrueNorth Steel's President, shared information about the company's 78-year legacy in steel product production and described how the new product production line in Lubbock aligns with the mission and vision of the company. The Lubbock Economic Development Association's President and CEO, John Osborne, spoke about the impact that the growth of TrueNorth Steel has made on the community. Shella Patterson Harris, Lubbock City Commissioner for District 2 closed out the event with remarks regarding the alignment of Texas' values of quality, diligence, and pride in work with TrueNorth Steel's proven excellence in steel product manufacturing.
The Lubbock site's new tank production line will focus on the manufacturing of Plasteel® Elutron® underground tanks. TrueNorth Steel's tanks, which are also manufactured tanks at three other company locations in addition to Lubbock, go through various thorough certification processes to obtain certification under the Steel Tank Institute (STI), Underwriter Laboratories (UL), and the American Petroleum Institute (API). The launch of the tank production line in TrueNorth Steel's Lubbock location included a UL-58 and UL-1746 certification for the first Plasteel® Elutron® tank manufactured at the facility.
Click here for more information on TrueNorth Steel's underground tank products, or click here for more information on TrueNorth Steel's Lubbock, TX site.