There has been a global shift towards more environmentally sustainable ways of working. Building owners, architects, engineers, and contractors are using structural steel framing systems. Steel framing allows companies to create a more sustainable design while still meeting construction goals. The steel industry is a great opportunity to create renewable resources. At TrueNorth Steel we use our more than 75 years of fabricating, manufacturing, engineering, and project management experience to deliver high-quality and environmentally stable products. 
Sustainable Characteristics of Steel
Structural steel offers many sustainable characteristics. Steel is the highest recycled content of any building framing material. It also has a significant potential for material reuse. Most building frame materials can only be downcycled (recycled in a way that the resulting product is of a lower value than the original item.) Structural steel has a cradle-to-cradle life cycle meaning it can keep being recycled. 
The American Institute of Steel Construction (AISC) has an extensive list of benefits the cradle-to-cradle life cycle offers. Click here to learn more.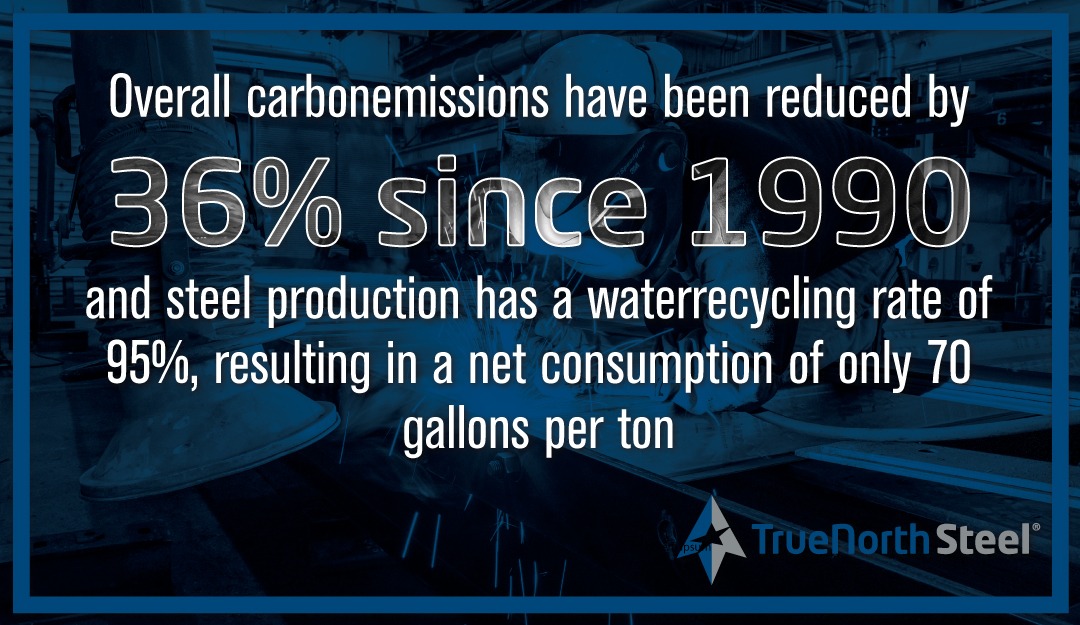 Steel Recycling vs Wood Recycling
When a wood building is replaced, nearly all the wood ends up in landfills or is burned. Either way, that carbon is being released back into the atmosphere. A steel building on the other hand can be recycled into new steel products. 
Other benefits from building with steel vs. wood include: steel is resistant to fires of low temperatures, does not absorb moisture or rust, and can not be consumed by termites, mold, or fungus. 
Facts About Recycling Structural Steel 
Overall carbon emissions have been reduced by 36% since 1990 and steel production has a water recycling rate of 95%, resulting in a net consumption of only 70 gallons per ton.

Steel is the most recycled material in the world, with domestic mills recycling more than 70 million tons of scrap each year. Currently, structural steel includes 93% recycled content! 

By weight, 81% of all steel products are recovered for recycling at the end of their life.
Regardless of scope and scale, fabricating and constructing any steel structure requires expertise and insight. At TrueNorth Steel, we work closely with the construction team, combining their vision with our experience to ensure building projects are designed, fabricated, and built to spec, on time, and as efficiently as possible.