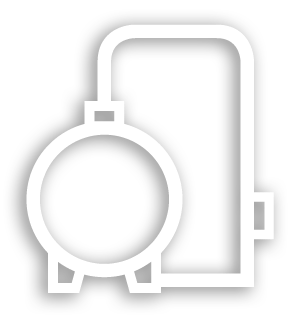 DIESEL TANKS
truck stops | mass transit refueling | military installations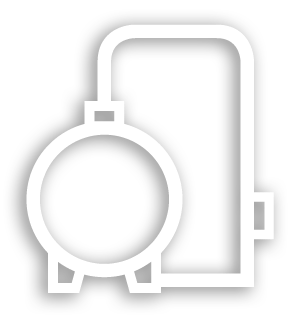 Plasteel® Elutron® Double Walled Steel Fiberglass Jacketed Fuel Storage System
TrueNorth Steel's Elutron® steel underground fuel storage tanks are designed to store and manage diesel fuel for truck stops, mass transit refueling, military installations, public works operations and a wide variety of diesel backup generators.
Steel fuel containment systems have a worldwide, proven history of providing reliable and safe storage of diesel fuel products. The inner steel tank is assembled, welded, pressure tested and shipped with a factory-established interstitial vacuum and pressure valve.
TrueNorth Steel Elutron® diesel fuel storage tanks can be supplied with single or multiple compartments making them the perfect choice for applications supplying multiple fuel types.
The fiberglass reinforced plastic "FRP" outer, secondary containment layer of the Elutron® system creates a high performance, seamless and durable underground diesel storage solution suitable for the aggressive conditions common at diesel refueling environments. The 360º interstice between the steel and FRP secondary containment creates a reliable method for leak detection. The steel inner tank provides the highest level of structural stability while the outer FRP layer provides complete protection from underground environmental conditions. The Elutron® double wall jacketed, UL Listed system meets the EPA 40 CFR subpart B, 280.20 standards for new underground storage tanks.
Installation of Elutron® diesel underground storage tanks is uncomplicated and due to the inherent, long term strength of steel are less dependent upon backfill for support when compared to non-metallic underground tank systems. Non-metallic underground tank systems require high-quality gravel backfill and a greater distance between adjacent tanks.
Each Elutron® system is supplied with a factory-established interstitial vacuum. Prior to delivery, our production team cleans and levels all the fittings and marks the center lines on each tank. These details save installers several hours of work normally spent on the pre-installation testing and cleaning typical of non-metallic underground tank systems.
Quality is built-in to every tank system TrueNorth Steel fabricates and our production facility is certified and routinely audited by the American Petroleum Institute and by Underwriters Laboratories.
TrueNorth Steel is a reliable partner with over 70 years of experience fabricating superior steel products including a wide array of storage tanks such as above ground fuel storage tanks, Fireguard® fire rated fuel storage systems, modular agricultural fuel storage tanks and petroleum storage tanks for oilfield applications.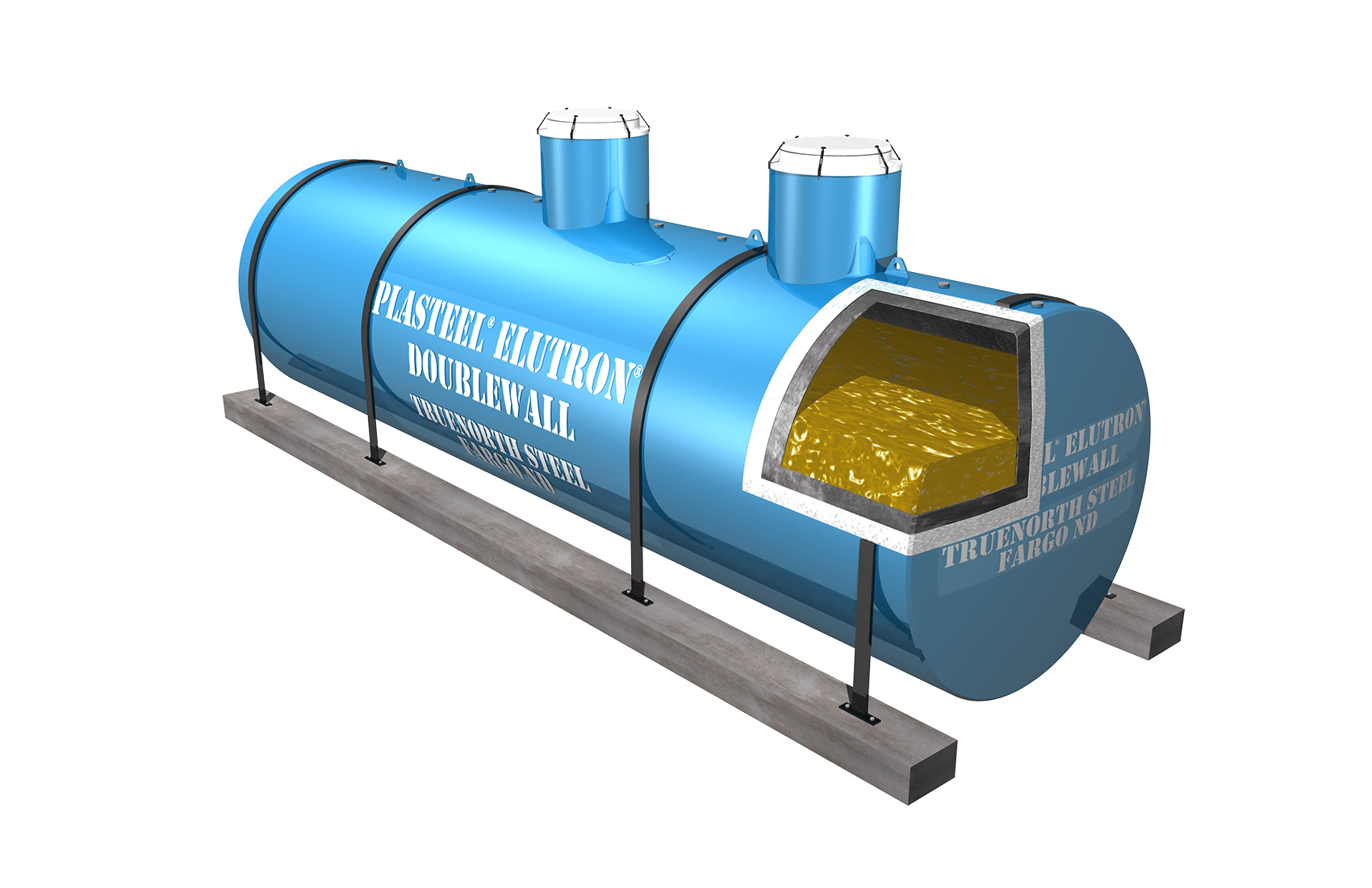 Explore Other Underground Tank Solutions
Gasoline Tanks


reliable and safe storage of fuel products
Learn More
AVIATION Tanks


Mission Critical Fueling Applications
Learn More
Benefits Of our Fuel Storage Tanks
Features of TrueNorth Steel's® Elutron® Underground Fuel Storage Tanks
Sizes range from 560 to 40,000 gallons and 4 to 12 feet in diameter
Can be fabricated with single or multiple compartments
Elutron® systems produced by TrueNorth Steel® are supplied with a limited 30-year warranty when storing flammable and combustible fluids
Each tank is UL listed and Elutron® technology is tested per UL standard 58 external pressure test
Benefits of Elutron® System Manufactured by TrueNorth Steel®
Customizable tank design to suit a variety of applications

Quick and simple installation requires no special and expensive backfill material.

Less risk of damage during installation when compared to fiberglass systems

TrueNorth Steel® performs pre-installation interstitial vacuum testing

Every tank is shipped with cleaned and leveled fittings to save time

Steel is the ultimate recyclable construction material
Quality
Every tank is tested per the UL standard 58+UL1746 to ensure it meets the specifications required by the National Fire Protection Association 

All of our welders are AWS certified

TrueNorth Steel maintains a comprehensive Quality Management System that guides every aspect of our operations including sourcing, planning, and manufacturing processes
Why TrueNorth Steel®?
70 plus years of complex and critical steel tank fabrication

American Petroleum Institute and Steel Tank Institute certified and UL Listed

Member of American Iron and Steel Institute

TrueNorth Steel is dedicated to the highest levels of safety

Unsurpassed customer support and commitment to on-time delivery
Available Accessories
Sump collars

Manholes

Threaded or flanged ports

Deadman anchors 

Hold down straps 

Turnbuckles

Submersible pumps
Tanks & Containment Solutions For
Above Ground Storage Bulk Fuel Storage Containment Systems Oil Field Storage Stair & Walkway Systems Underground Storage Diesel Gas Diesel Exhaust Fluid Aviation Fuel